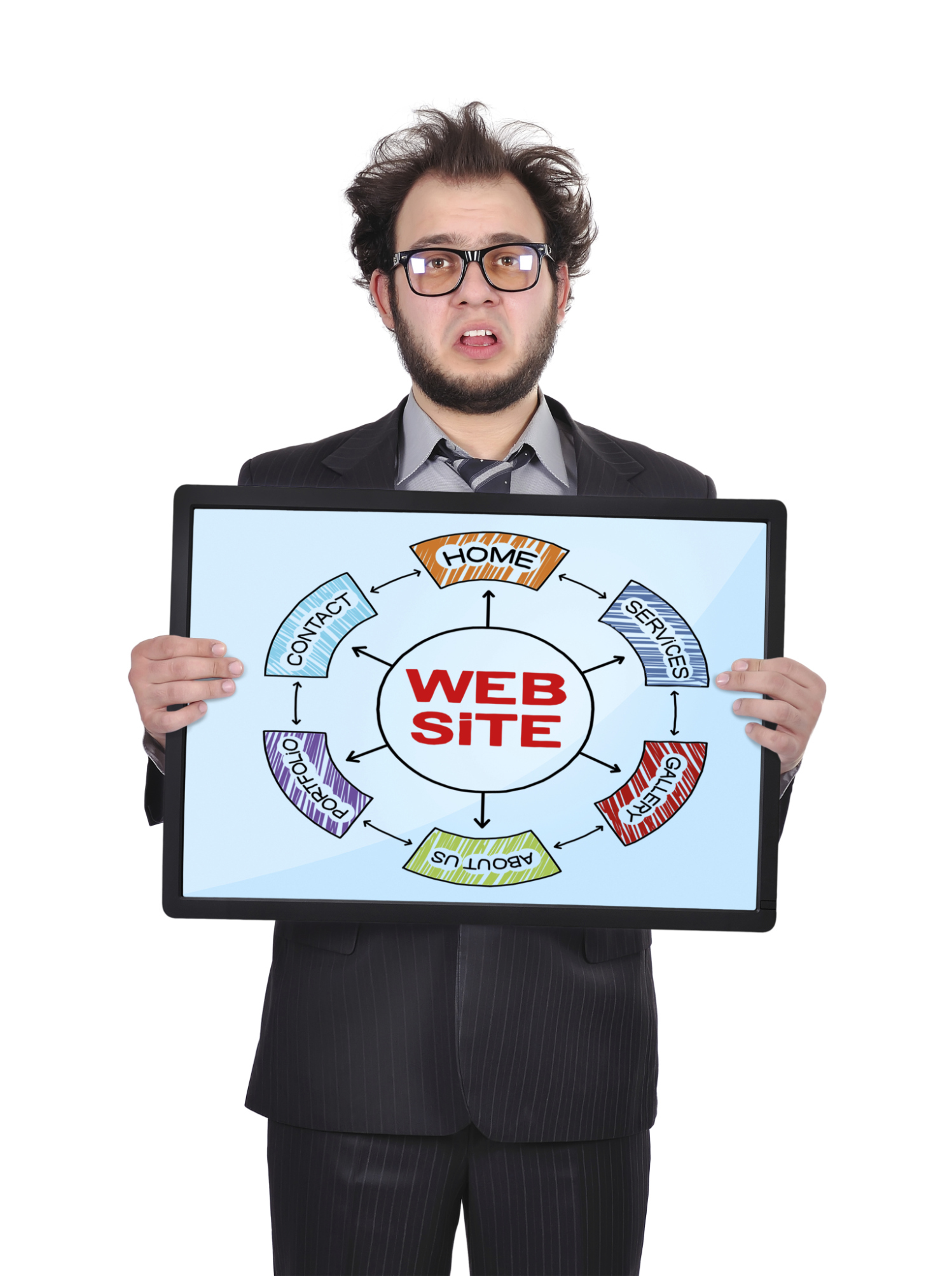 Painful eyes? Involuntary squinting? A lump in the throat? Restless fingers? All these symptoms point to a modern-day culprit: A sick website, desperately in need of redesign. Luckily, websites don't need to see a doctor or take a pill: As soon as the sick website design is cured, all human symptoms disappear as well. If a sick website is the diagnosis, chances are, no custom WordPress Design and Development has been done. Or at least not by Nicasio Design.
What Does Web Design Entail?
Web design is all the components of the site coming together. It involves not only the graphics, colors, photographs and fonts, but the content, tools, navigation that is ease of use as well.
With so many components of design, it takes a tech and design savvy expert to diagnose and treat the problem, but it's good for every website owner to have some idea of what causes this infliction.
Symptoms of a Sick Site:
Website shows and tells how great the organization is, instead of how it can help visitors and solve their problems.
It takes longer than four seconds for a web newbie to figure out the site's purpose.
The site does not look professional. Colors resemble a grade school classroom project or locally-printed flyer. Photos are iPhone snapshots.
Layout and fonts are not uniform or standard. Graphics are haphazardly placed. Website mix and matches text sizes, colors and fonts.
Design is cookie cutter, or suspiciously similar to another website's design.
Site looks busy, both in text and visuals.
Home page – or any page – takes a long time for it to load.
The home page, or any page, is longer than 11-22 inches from top to bottom.
Site plays unsolicited music or a sales pitch while visitors surf.
Site looks different in different browsers and versions.

Site is asymmetrical and is not set up using a grid system.

Pages require a refresh to see new content.
Site breaks up if javascript is turned off, or because of coding errors.
Site is flash-based (unless it's a game or virtual tour site), or uses a splash page.
Site requires visitors to register before seeing anything.
Site's title tag says "Index" or something else irrelevant or generic.
Site doesn't work well on smart phones, tablets or ipads. Or doesn't show up at all.
Site uses a bad frames set up, or pop-up windows.
Too much unfulfilled space, or too little.
Directions for how to perform simple tasks, such as ordering or contacting someone, are unclear or absent.
Site doesn't use CSS or uses inline CSS.
Logo is not prominent.
Site has no search box.
Links are broken or don't work.
Code is showing.
Content is full of jargon or acronyms.
Site uses

and/or 

like crazy.

Site has a hit counters.
Ugly or fuzzy background images or foreground graphics.
Site offers no site map.
Site uses liquid or fixed-width design.
Site uses ALL CAPS.
Paragraphs are too long. No subheads or bullet points.
Too many bolds, italics, underlines and in-text links.
Style and content don't match.What is the Cure for a Sick Website?
You can analyze your site overall.
Check to see if your CSS texts and backgrounds have correct contrast.
Check keywords against the words used to describe the site.
Don't forget to check how the site looks in the 80 different browsers, for computers, tablets and phones.
Alternatively, visiting a website doctor can cure your ails without all that leg work.
Find out what Nicasio Design has does for other clients, and what we can do for you.